London Tone Music Celebration - 52 Artists, 52 Singles, 52 Weeks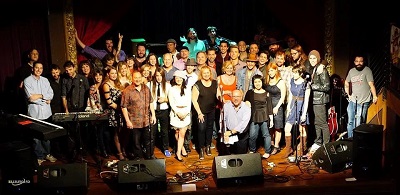 The Triple Door Presents
Thursday / April 30, 2015
8:00pm Show - 6:30pm Doors open and dinner service begins in the Theater {All Ages}
$18 Advance
$20 Day of Show
Purchase tickets online or by calling our Box Office at 206.838.4333.
The London Tone Music 52x52 Celebration brings together more than 40 incredibly talented Seattle area musicians to celebrate the completion of London Tone's unprecedented and historic label launch: signing 52 emerging to established musical artists to singles contracts, producing high quality recordings of their 52 original songs encompassing various genres and releasing a new single each week for 52 weeks.
A wonderful result of London Tones launch is a community of musicians, bonded by London Tone's dynamic approach to recording and presenting music, who will be participating in this non-stop, engaging and lively night of top-flight musicianship, unique collaborations and fun!
London Tone Music artists scheduled to perform include Kim Virant, Andrew Joslyn, Susy Sun, Jessica Lynne, Kitt Bender, Eric Lilavois, Geoffrey Castle, Nolan Garrett, Rikk Beatty, Tobias The Owl, Smokey Brights, Will Jordan, Strong Suit, Before Cars, Vanowen, Whitney Lyman, Lions Ambition, Jovino Santos Neto, Spyn Reset, Philana Goodrich, Jeremy Serwer, Danny Pentin, Antoine Martell & Raymond Hayden.
Enjoy some of your favorite musicians and prepare to be blown away by ones you may not have heard yet. London Tone Music is proud to bring them all together to share their musical gifts for an unforgettable evening of music.
London Tone Music is a partnership between Seattle's iconic London Bridge Studio and music business consulting firm, 2 Jeffs on Music.