The Von Trapps w/ March to May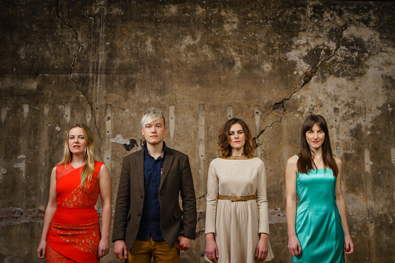 The Triple Door Presents
Saturday / February 6, 2016
8:00pm Show - 6:30pm Doors open and dinner service begins in the Theater {All Ages}
$16 Advance
$18 Day of Show
Purchase tickets online or by calling our Box Office at 206.838.4333.
Suites are also available for private parties and special events. Call our Private Dining department at 206.838.4312 to reserve a private suite for the show.
The von Trapps, next generation. Sofia (27), Melanie (25), Amanda (24) and August (21), siblings, and the great-grandchildren of the Captain and Maria von Trapp, are reinventing the legacy of their birthright for the modern age. Dancing in Gold, the first of three EPs of entirely original material the von Trapps sent out to the world in April 14, 2015.
For their first foray into the studio in their new incarnation, they sought out a kindred spirit, approaching Israel Nebeker, the lead singer and songwriter of Blind Pilot, to produce the album. Inspired by the work of artists such as Fleet Foxes, Beach House, Sufjan Stevens, Françoise Hardy, and the Beach Boys, the harmonic folk-pop that sings out of Dancing in Gold is 21st-century von Trapp: inventive, earnest and exquisite. Nebeker gets right to the heart and soul of the matter: "Their sound is an open collage, unafraid of combining disparate style and sentiment. Most importantly to me, it communicates honestly and is sung from the heart."
The von Trapps' musical journey began as a fluke and a brainstorm in 2001. During summer visits to their Montana home, their grandfather Werner von Trapp taught them the Austrian folk songs he loved as a child. When he became too ill to travel, they crafted a homemade recording to cheer him up, never expecting it would inspire a career in music. The von Trapps have been on stage together ever since. Their performances make room for melodicas and ukuleles, lyrics that can unspool in ten languages, twinges of Appalachia and Portlandia, some shout-outs to the Mamas & Papas, all filtered through the DNA of the most beloved musical ever, The Sound of Music. They have toured extensively, from Beijing's Forbidden City to the Sydney Opera House, performed with major symphonies across the country, appeared on Oprah, and recorded with artists such as Wayne Newton and Rufus Wainwright, and just recently sharing the stage with the legendary Lorretta Lynn.
For the past few years, The von Trapps have been frequent guest performers with Pink Martini, the globetrotting pop sensation. The two groups collaborated on Pink Martini's eighth studio album, Dream a Little Dream, released in March 2014, which has sold over 20,000 copies in the US alone, and was featured on NPR's Weekend Edition.
Emboldened by that collaboration, flourishing in the rich creative world of their adopted hometown of Portland, Oregon and burgeoning with new ideas, The von Trapps cast off on their own to trailblaze a new musical path.
As The von Trapps tell Rolling Stone, "This new chapter in our career feels very electric; our current sound is super fresh, personal, and fun. Fourteen years of touring the world together has given each of us a well of inspiration, and we are at a point where all of that energy is overflowing. How each of us blend our styles together is both a challenge and a thrilling discovery for us; we found a wonderfully surprising and compelling harmony in this first creation, Dancing in Gold. We're eager to see how our music manifests itself moving forward."