Bohemia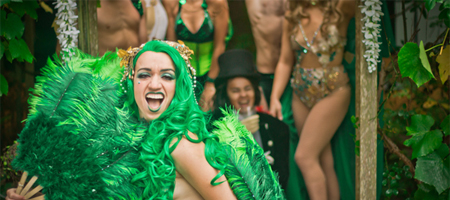 5pm shows = Seating and dinner service at 4pm {17+}
5:30pm shows = Seating and dinner service at 4:30pm {17+}
6pm shows = Seating and dinner service at 5pm {17+}
7:30pm shows = Seating and dinner service at 6pm {17+}
8pm shows = Seating and dinner service at 7:15pm {17+}
8:45pm shows = Seating and dinner service at 8pm {21+}
Absinthe service (spoons, sugar, ice fountains) will be available for purchase in the Premium Seating sections.
"This dreamlike cabaret is part musical theater, part burlesque, part aerial and acrobatics and all fun." - Broadway World
"A glamorous look back at the Belle Epoque and the Age of Absinthe" - Seattle Magazine
"An ode to artistic romanticism... a beguiling, mildly naughty and well-provisioned evening." - Seattle Times
"Bohemia brings a beautiful classical work of erotic art to The Triple Door...From the staging to the classical music this production is pure art." - Seattle Gay News
The award winning smash hit Bohemia from critically acclaimed artists Opal Peachey and Mark Siano returns to the Triple Door this January. After blowing audiences away with their sell-out success Seattle Vice, their latest musical Bohemia is a freewheeling cabaret about love, classical music, art nouveau, green fairies and absinthe. Set in 1890s Prague, Bohemia combines the music of Dvořák and Chopin, with art by Alphonse Mucha. Historic artists like Sarah Bernhardt and George Sand, interweave with beautiful green fairies, aerial numbers, dance, burlesque, classical piano battles, comedy, and original songs.
The story centers around famous Czech composer Antonin Dvořák who has hit a wall and prior to composing his magnum opus, so he looks to the bottom of a bottle of absinthe for inspiration. In this macabre and mystical dream cabaret, Dvořák is visited by the ghost of late composer Frederick Chopin and a host of green fairies. Chopin and many other famous Bohemians guide Dvořák on the search for true inspiration in the pursuit of artistic immortality.
https://www.marxiano.com/