The Rumba Kings (Spring 2023) featuring the Arcobaleno String Quartet and Special Guests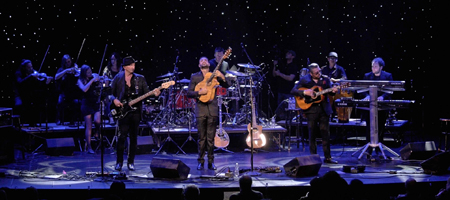 6pm Show: Seating and dinner service begins at 5pm {All Ages}
9pm Show: Seating and dinner service begins at 8:30pm {All Ages}
KNKX Presents
Friday / March 3 & Saturday / March 4, 2023 @ 6pm & 9pm
$49.50 General // $69.50 Premium
www.therumbakings.net/


Our new show resembles a Vegas production more than anything else. It's pure class. It's a night out at The Copacabana in the 40's. The ultimate get dressed-up and have a classy night out show." - Johnny Bacolas

"Our goal is to take our audience on a trip around the Mediterranean." - George Stevens

KNKX 88.5 FM Presents The Rumba Kings featuring Arcobaleno Strings and special guest performers! Get dressed-up ready for two nights of the most passionate Mediterranean-inspired music imaginable, accompanied by a live performance that is the talk of the Pacific Northwest! Catch the band in our intimate theater before they ascend to international status! Their new single, "Dance with me" is being praised and shared by top radio personality, Delilah, on her social media. Seattle's KNKX has been a proud supporter of their live shows and music from the beginning.

The show features mostly instrumental nylon-guitar driven music, influenced by such artists as the Gipsy Kings and Yanni. For this special performance, The Rumba Kings will be accompanied by a string quartet on several songs, elevating this concert to an entirely different level than previous concerts. The band is thrilled to have one of the most respected string quartets in the Northwest performing with them, Arcobaleno Strings. The quartet will accompany the band on approx. eleven songs. Also one of the Northwest's top Saxophonist, Jory Tindall, will be joining the band on a couple of songs, as well as the very talented, Rachel Nesvig, on first violin. Rachel will be performing several Mediterranean-inspired songs with the band solo as well. Guest vocalists will also be making special guest appearances in some special segments in the show.