The Atomic Bombshells J'ADORE – 13 year Anniversary!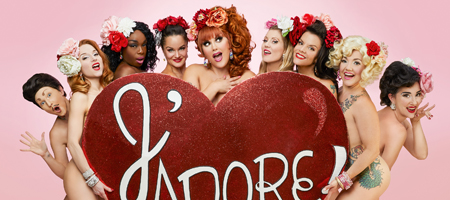 Friday / February 11 - Monday / February 14, 2022
Fri/Sat – 6pm & 9pm – $40 reg / $50 premium
Sunday – 5pm and 8pm – $35 reg / $45 premium
Monday – 6pm - $40 reg / $50 premium
www.theatomicbombshells.com
Now celebrating it's 13th Anniversary Season, "the city's most dazzling Burlesque troupe", The Atomic Bombshells, deliver a gorgeous and glittering VALENTINE to Seattle, and celebrate the return of their seasonal smash spectacular: J'ADORE! A Burlesque Valentine!
COMING THIS FEBRUARY: Freshly re-imagined each year, and featuring a parade of breathtaking brand new and classic acts, J'ADORE! is a burlesque, drag, and dance spectacular that celebrates romance with good humor, style, and a healthy dose of dazzle! Recently named "Seattle's most venerable burlesque dancers" (The Stranger), The Atomic Bombshells are comprised of a cast of award-winning, title-holding, globe-trotting show girls and boys...catch them here in Seattle while you can!
Bring a friend, a fling, family, or a secret crush, and celebrate with the Valentine's burlesque spectacular that has played to sold out crowds for the last decade and will leave you shouting: "J'ADORE… The Atomic Bombshells!"
Praise for The Atomic Bombshells:
With "choreography that's pristine"(Shanghai Jazz Scene) and "a sheer joy to watch" (HotelsByCity), this gorgeous annual homage to love showcases once again that "The Atomic Bombshells make stripping an ART!"(Seattle Gay News)
"The Atomic Bombshells are Seattle's most venerable burlesque dancers...instrumental in spearheading the Seattle burlesque revival." (THE
STRANGER)
"Armed with an astounding amount of talent, these phenomenal beauties pull out all the stops and pump out a show of sheer splendor where every inch of skin is cherished.." (SEATTLE WEEKLY)
"Their slithery choreography is flawless......Don't miss it!!" (SEATTLE MAGAZINE)
"Extraordinary practitioners of the art of burlesque...!!" (ARTDISH.com)