The Paperboys – 16th Annual Thanksgiving Weekend Meltdown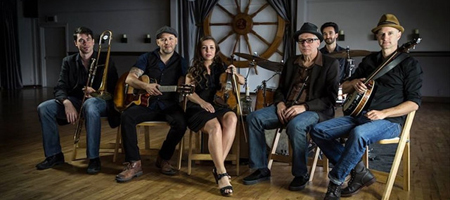 Seating and dinner service begins 90 minutes before showtime {All Ages}
Friday / November 24, 2023 @ 8pmSaturday / November 25, 2023 @ 8pmSunday / November 26, 2023 @ 7pm - BETTER AVAILABILTY THIS DATE!

$25 General // $30 Premium Seating
http://www.paperboys.com/


Celebrating their 28th year, Vancouver Canadian musician Tom Landa, is looking back on the legacy of his much-loved folk rock band The Paperboys. For just over a quarter century, The Paperboys have been touring the world and lighting up stages with their freewheeling blend of influences from Celtic and bluegrass, to Mexican son jarocho, brass bands, and Canadian roots. They have been called everything from Cajun slamgrass to worldbeat, they've received a Juno award (Canadian Grammy), plus two Juno nominations, two West Coast Music Awards, released nine albums, and regularly play two-night bills in the Pacific Northwest. But that's not what matters to Landa now. "What means more to me than anything else is to receive letters, emails, or hear stories from people who tell me that our songs helped them through a tough time, or that they used one of our songs for their wedding, or that an album of ours was the soundtrack of their summer. At the end of the day, accolades are nice, but they are nothing compared to connecting with people." Landa's song 'Better Than The Last' has become somewhat of an anthem for people who have gone through hard times.