Burlesco DiVino: Wine in Rome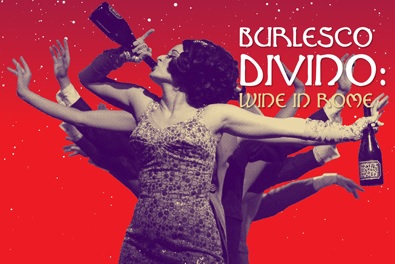 Thursday: one show at 7:30pm
$35 advance / $40 Day of / $45 Front Row
Friday and Saturday: two shows each night at 7:00pm and 10:30pm
$40 advance / $45 day of /$50 Front Row
For 7:00p and 7:30 shows, doors open and dinner service begins 90 minutes prior to showtime {17+}
For 10:30pm shows, doors open and dinner service begins 30 minutes prior to showtime {21+}
Purchase tickets online or by calling our Box Office 206.838.4333
Suites are also available for private parties and special events. Call our Private Dining department at 206.838.4312 to reserve a private suite for the show.
September 29 through October 1

Lily Verlaine & Jasper McCann return to the Triple Door this fall for their newest spectacle of ecdysiastic pageantry, Burlesco DiVino: Wine In Rome, a celebration of wine, liberation, and frivolity in The Eternal City.
The first and only burlesque production commissioned by The Triple Door, Burlesco DiVino takes the audience on a wild trip across Rome in 1963 with American choreographer Babs Lawson and her friend, Italian musician Lanzo Travaglio. Saddled with creating a work of theater for widowed socialite Donatella Chianti, Babs and Lanzo are in over their heads. With a deadline looming and their reputations on the line, they need to flesh out the cast, costume the show, and get over their writer's block, all without destroying their friendship. Will the show be a tragic failure, or will they be able to charm the citizens of Rome to get into the act and lift Donatella out of her grief?
Inspired by the great costume epics Quo Vadis and Satyricon, and the mid-century visions of Rome La Dolce Vita and Roman Holiday, this show mixes classical music, jazz, and Italian go-go rock with the traditional music of ancient Rome. Priestesses, paparazzi, Vespa-girls, fire dancers, and fashionistas all take their turn in the spotlight as the ensemble weaves belly dance, go-go, and ballet with comedy, striptease, glamour, and song!
Burlesco DiVino: Wine In Rome is the intoxicating theatrical burlesque mélange that you've come to expect from Verlaine, McCann, and company. Join us in the Bacchanal this fall!
Featuring burlesque superstars Lily Verlaine, The One The Only Inga, The Luminous Pariah, Paris Original, Trojan Original, and Jasper McCann, with rising stars Laurel Bordeaux, Tory Piel, Dreamy Tangerine, and Fosse Jack, musical-theater actress Erika Zabelle, and the fusion belly-dance trio Tribella, the show will leave you punch-drunk with delight!