House of Thee Unholy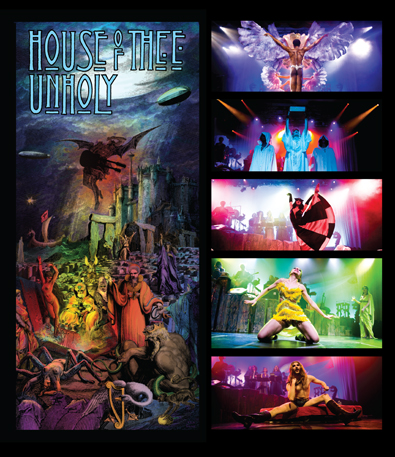 PaulaNowEvent and The Triple Door Presents
April 20 - 24, 2016
Wednesday and Thursday
7:30pm Show - 6:00pm Doors {17+}
$25
Friday and Saturday
7:00pm Show - 5:30pm Doors {17+}
AND
10:00pm Show 9:30pm Doors {21+}
$35
Sunday
5:00pm Show - 4:00pm Doors 0
AND
8:00pm Show - 7:30pm Doors {17+}
$30
Purchase tickets online or by calling our Box Office at 206.838.4333.
Suites are also available for private parties and special events. Call our Private Dining department at 206.838.4312 to reserve a private suite for the show.
"The World's Sexiest Rocklesque Show " -- Huffington Post
Creative director Paula Sjunneson of PaulaNowEvent (formerly The Swedish Housewife) and The Triple Door are delighted to announce the return of House of Thee UnHoly.
House of Thee UnHoly -- a non-stop explosion of '70s mythology and sexually-charged psychedelia --is an epic 90-minute theatrical spectacle. Featuring Druids, Vikings, desert goddesses, sex, drugs, rock 'n' roll -- and a little bumble bee with a big problem – the show boasts a 21-person ensemble cast comprised ofsome of Seattle's most celebrated and award-winning musical, vocal and dancing talents. Seattle's most outré and imaginative choreographers, costumers and stage designers join the cast and crew, creating eye-popping visuals on the stunningly-lit stage.
"House of Thee UnHoly, clearly has a rabid following, if the whoops and hollers and cheers are any indicator," says The Seattle Times. "The costumes, extravagantly fanciful."
"House of Thee UnHoly's sheer visual and auditory spectacle cannot be overemphasized," writes Culture Mob, and The Seattle Weekly calls it, "Broadway level Burlesque."