Kaki King w/ Glockabelle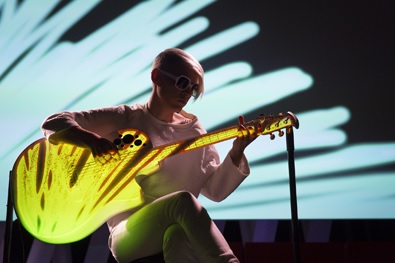 8:00pm Show - 6:30pm Doors open and dinner service begins in the Theater {All Ages}
Purchase tickets online or by calling our Box Office:
Suites are also available for private parties and special events. Call our Private Dining department at 206.838.4312 to reserve a private suite for the show.
Provocative and moving, surprising and beautiful, "The Neck Is A Bridge To The Body" is Kaki King at her visionary best: deconstructing and redefining the role of solo instrumental artist though virtuoso technique, insatiable imagination, and boundless humanity. This groundbreaking new multi-media performance uses projection mapping to present the guitar as an ontological tabula rasa in a creation myth unlike any other. An album of the same name, featuring the soundtrack from the show, will be released on March 3, 2015.

Luminous visions of genesis and death, textures and skins, are cast onto an Ovation Adamas 1581-KK Kaki King Signature 6-String Acoustic guitar customized specifically for this production. The Guitar gradually evolves, taking on a living, breathing existence of its own, complete with friends, family, and complex skeletal, muscular and nervous systems.


"The Neck Is A Bridge To The Body" was produced in collaboration with Glowing Pictures (best known for their work with such artists as Animal Collective, David Byrne & Brian Eno, Beastie Boys, and TV On The Radio).