Through the Looking Glass: The Burlesque Alice In Wonderland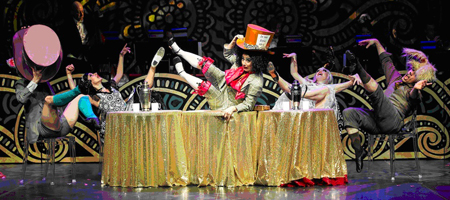 4pm Show: Seating and dinner service begins at 3pm {17+}
6:30pm Show: Seating and dinner service begins at 5pm {17+}
7pm Show: Seating and dinner service begins at 6:30pm {17+}
7:30pm Show: Seating and dinner service begins at 6pm {17+}
9:30pm Show: Seating and dinner service begins at 9pm {21+}
Spring is here and that can only mean one thing… "The mischievously talented Lily Verlaine & Jasper McCann" (Seattle Magazine) return to the Triple Door this May for their 2023 season of their "incomparable…colorful and entertaining" (Seattle Gay News) re-imagination of Lewis Carroll's classic tale of nonsense and fantasy. Come along with Alice as she discovers what wonders lie beyond the velvet rope at Wonderland's most exclusive nightclub, The Looking Glass, and tries to best the menacing Queen of Hearts to become the next Queen of Wonderland.
Marvel as our live jazz-rock sextet, "The Aces & Eights", plays hard-bop, psychedelia, and Indian Raga-pop to set the mood as exceptional dancers from around the region combine dance styles into a whirlwind of whimsy and bawdy beauty. The superstars of Seattle's Burlesque A-List take on the roles of Carroll's famous characters and turn Wonderland's topsy-turvy world into an ecdysiastic tour-de-force filled with glamour, comedy, dance, striptease, and song.
Fan Favorites new and old return to the Looking Glass this May, including Lily Verlaine's Caterpillar and her stunning Monarch Butterfly consort, Tadger Sinclair, Las Vegas showgirl Laurel Bordeaux as Mme. Gryphon, Ditto Von Reese as the Queen Of Hearts, Ritzy Carlton and Isabella Bloom as the hilarious Eat Me & Drink Me, and Babette La Fave as the diabolical Jabberwocky! Get ready to go mad again with us this May!