Triple Threat w/ Kimball Allen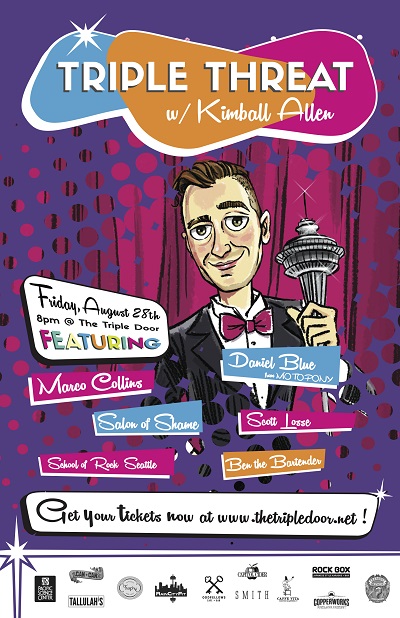 The Triple Door Presents
Friday / August 28, 2015
8:00pm Show - 6:30pm Doors open and dinner service begins in the theater {PG13 suggestion}
$25 Advance
$30 Front Row Seating
Purchase tickets online or by calling our Box Office at 206.838.4333.
VIP rooms are also available for private parties and special events. Call our Private Dining department at 206.838.4312 to reserve a VIP room for the show.
The Stranger calls Triple Threat w/ Kimball Allen a, "Brand-new thing, an entertainment-packed variety talk show." "Triple Threat is a talent show with actual talent" declares Seattle Gay Scene. Seattle based entertainer, Kimball Allen, hosts the recurring 90-minute pacific northwest talent showcase at the illustrious Triple Door.
Musical Guest: Daniel Blue from Motopony
Featured Guest: Marco Collins
Comedian Scott Losse
Childhood exploits from Salon of Shame
http://triplethreatvarietyshow.com/
https://m.youtube.com/watch?v=9w02lSYbRFI
Opening Act School of Rock Seattle