The Seattle Sound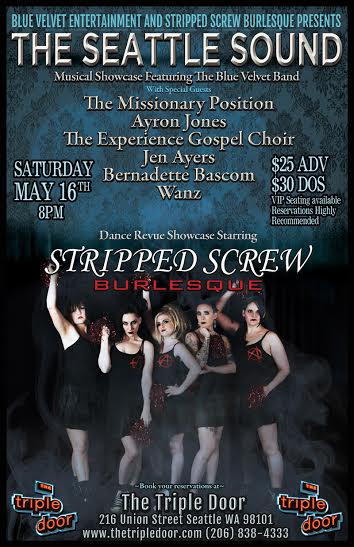 The Triple Door Presents
Saturday / May 16, 2015
8:00pm Show - 6:30pm Doors open and dinner service begins in the Theater {17+}
$25 Advance
$30 Day of Show
$35 Front Row Seating
Purchase tickets online or by calling our Box Office at 206.838.4333.
VIP rooms are also available for private parties and special events. Call our Private Dining department at 206.838.4312 to reserve a VIP room for the show.
This musical showcase features the Blue Velvet Band, led by music director, Andrew Cloutier on drums, Scott Harris bass, RL Heyer guitar and Justin Kausal-Hayes Guitar. Special guest music performances by The Experience Gospel Choir, Bernadette Bascom, The Missionary Position, Amanda Hardy, Ayron Jones, Jen Ayers, Wanz and many more.
The Seattle Sound is a live music, dance revue and narrative celebration of the people and places that have made our town a significant spot in the culture of music worldwide. This historic journey begins with a Native American percussion/native tongue vocal piece and bring us through many aspects of the music of Seattle including Jazz, R&B, Soul, Rock n Roll, Grunge, Post Grunge and modern day Hip Hop.
This live music revue will be accompanied by the dance showcase of Stripped Screw Burlesque. The five piece dance troupe features, Violet Tendencies, Seraphina Fiero, Kutie LaBootie, Lady Drew Blood and Stella D'Letto. These are the ladies that have brought you Disney After Dark, The Best Burlesque Pageant Ever, Undressed to Kill and many more wonderful productions throughout the years.
This event is presented to you by Blue Velvet Entertainment and Stripped Screw Burlesque.