Seattle Vice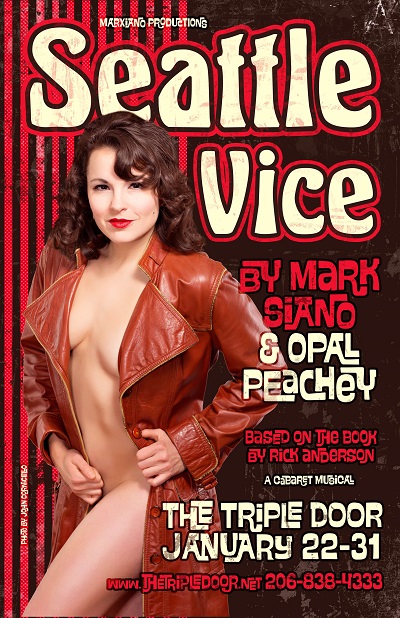 The Triple Door Presents
January 22nd through January 31st, 2016
$25 - $55
For all shows starting before 9pm, doors open 90 minutes prior to showtime {17+}
For all shows starting after 9pm, doors open 30 minutes prior to showtime {21+}
Purchase tickets online or by calling our Box Office at 206.838.4333.
VIP rooms are also available for private parties and special events. Call our Private Dining department at 206.838.4312 to reserve a VIP room for the show.
"Seattle Vice is the award-winning hit musical that explores Seattle's seedier past with tales of strippers, dirty money, prostitution, and crooked cops. Set in 1965 during Seattle's infamous "tolerance policy", this original cabaret musical looks at the good times of Seattle's anything goes era and how it all came crashing down.
Created by Mark Siano and Opal Peachey, winner's of the 2014 best original score Gypsy Award from Seattle Theater Writers, and creators of the last summer's critically acclaimed sell-out hit Bohemia at Cafe Nordo. Seattle Vice is based on the book of the same name by Rick Anderson and was originated at ACTLab in the Bullitt Cabaret.
Seattle Vice at The Triple Door will feature the 7 piece live band The Enablers, playing an original score alongside classic go-go hits of the 60's. The cast features dozens of Seattle's sexiest performers and the story is a fast paced historical tour told through comedy, music, burlesque, dance, and dirty stories of Seattle's sleazy glory days."
#seattlevice